Hello there! It's no secret that gift-giving can sometimes feel like navigating a minefield. It's a balancing act, isn't it? Trying to find something unique yet meaningful, personal yet fitting. Add in the desire to be environmentally conscious, and you've got quite a challenge on your hands! But fear not, eco friendly gifts are here to save the day. So, pull up a chair, grab a cup of your favorite beverage, and let's deep-dive into this green ocean of eco-friendly gifting.
Why Choose Eco-Friendly Gifts?
The practice of giving gifts is as old as civilization itself. Throughout history, humans have exchanged presents to express love, forge connections, and celebrate occasions. Over time, the nature of these gifts has evolved. But, in today's world, where climate change and environmental sustainability are urgent concerns, it's time our gifting habits reflect these priorities too. Enter eco-friendly gifts – the heroes of modern-day gifting.
But why choose eco-friendly gifts? Here's why.
Impact on the Environment
In today's consumerist society, our choices impact the environment more than we might realize. Every product we purchase leaves behind a carbon footprint, from the extraction of raw materials to the manufacturing process and from transportation to waste disposal. Traditional gifts, especially those made from plastic and other non-biodegradable materials, contribute significantly to this environmental burden.
But here's where eco-friendly gifts shake things up. These presents are like the superheroes of the gift-giving world, swooping in to save the day! Eco-friendly gifts are made with consideration for the environment, using sustainable or recycled materials and less energy-intensive manufacturing processes. Their packaging is minimal and recyclable, avoiding the mountain of wrapping paper and plastic in landfills yearly. Plus, eco-friendly gifts are typically designed to last, encouraging a culture of longevity over disposable consumerism.
Imagine giving a gift that delights the recipient while respecting the planet. That's the power of eco-friendly gifting. It's like serving a double scoop of joy – one for your loved ones and one for Mother Earth!
Promoting Sustainable Lifestyle
Gifts are more than just objects; they're expressions of our values. Whenever we give a present, we subtly communicate what we hold important. Eco-friendly gifts amplify this message by endorsing a sustainable lifestyle.
By choosing eco-friendly gifts, you're making a statement – a declaration of your commitment to the well-being of our planet. You're showing your loved ones that you care about their happiness and the world we all share. This can be a powerful influence, inspiring others to adopt more environmentally conscious habits. It's like igniting a chain of positive change, one gift at a time!
Moreover, eco-friendly gifts raise awareness about sustainability and environmental issues. They spark conversations about conscious consumerism, waste reduction, and our individual roles in protecting the planet. They're not just presents – they're discussion starters, educational tools, and symbols of advocacy.
Setting the Trend
We live in a world where trends hold significant sway. From fashion and technology to food and lifestyle, we're continually influenced by the 'next big thing.' But what if the 'next big thing' could benefit our planet?
Eco-friendly gifts offer an opportunity to set a new trend – a trend of sustainability. They're the perfect blend of innovation, practicality, and environmental consciousness. Whether it's a stylish tote bag made from recycled materials, a quirky solar-powered gadget, or a luxe beauty product made with natural ingredients, eco-friendly gifts are undeniably cool. They add a fresh twist to gifting, proving that sustainability and style can go hand in hand.
And let's be honest – who doesn't love being a trendsetter? With eco-friendly gifts, you can be just that. You can lead the charge towards more conscious consumption, making 'green gifting' the new norm. Because let's face it – nothing's trendier than caring for our planet!
So, why choose eco-friendly gifts? Because they're kind to the environment, promote sustainable living, and allow you to set a trend toward greener choices. They're the gifts that keep on giving, spreading joy to the recipient and our wonderful planet. Because, after all, isn't the best gift the one that creates a better world?
Types of Eco-Friendly Gifts
If you're imagining eco-friendly gifts as a bland and limited range of products, prepare to have your mind blown. Eco-friendly gifts come in all shapes and sizes and trust me, there's something for everyone!
Reusable Items
Think of reusable items as the superheroes of eco-friendly gifts. They swoop in, save the day, and then do it all over again! They reduce the demand for single-use products, thus reducing waste. There's a plethora of reusable gifts out there, from coffee cups and shopping bags to beeswax wraps and silicone lids. And the beauty of these gifts is that they're good for the environment and save money in the long run. It's like gifting a little pouch of everlasting love and care!
Recycled Materials
Gifts made from recycled materials embody the phrase "one man's trash is another man's treasure". These gifts utilize materials that would otherwise end up in landfills, giving them a new lease of life. Picture a gorgeous tote bag made from discarded plastic, a notebook made from recycled paper, a beautiful piece of art made from reclaimed wood, or even eco friendly phone cases. They're sustainable, unique, and carry a story worth sharing!
Natural Products
Natural products make the perfect eco-friendly gifts. Organic skincare products free from harmful chemicals, handmade soaps, or candles made from natural wax are kind to your skin and the planet. Imagine the joy of pampering yourself or your loved ones with gifts that make you feel good and make Mother Earth breathe a sigh of relief!
Our Top Eco Friendly Gift Picks
Gift-giving is an art, and if you're trying to find the perfect present while also being mindful of the environment, it can seem a little tricky. But not anymore! We have curated a list of our top eco-friendly gifts for you, showcasing a range of products that marry sustainability with style, functionality, and even a dash of quirkiness. Brace yourselves because eco-friendly gifting is about to get a whole lot more fun!
Casafield Organic Bamboo Cheese Cutting Board & Knife Gift Set 
Introducing the "Casafield Organic Bamboo Cheese Cutting Board & Knife Gift Set," an exquisite blend of functionality and elegance. This superior-quality set includes a bamboo cheese board and four stainless steel serving utensils. It serves as the perfect gift for any occasion, including bridal showers, weddings, holidays, birthdays, housewarmings, and more.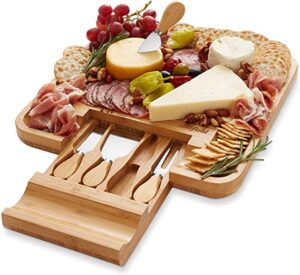 The cheese board and cutlery set boast superior craftsmanship, featuring a beautiful, natural bamboo look. The large board measures 13.25″ x 12.5″ x 1.5″ in total, while the center serving surface section measures 8.5″ x 8.5″. It is surrounded by a deep outer rim perfect for serving an assortment of crackers, olives, meats, and cheese.
Hidden within the convenient slide-out drawer, four stainless steel cheese serving utensils are housed, each with a matching bamboo handle. These utensils are specifically designed for slicing and spreading cheese, making them indispensable tools for any cheese lover.
Casafield's cheese board is crafted from organic "Moso" bamboo, a premium, sustainable, all-natural, durable, and beautiful wood. It is free from formaldehyde and BPA and devoid of toxins or chemicals. This eco-friendly material is naturally non-porous and resists knife scarring, making bamboo a healthy alternative to other hardwood boards.
This bamboo cheese board and the included cheese knives should be hand washed with warm water and light dish soap, then thoroughly dried to ensure longevity. For maintaining the board's natural beauty, occasional oil treatments are recommended. Choose the Casafield Organic Bamboo Cheese Cutting Board & Knife Gift Set and serve your favorite cheeses with a touch of style and sophistication.
Homeostasis Living REusable Paper Towels
The "Homeostasis Living Reusable Paper Towels" offer an unmatched combination of luxury and environmental sustainability. This premium set comes with 2-ply, 11″ X 11″ reusable paper towels, available in packs of 12 or 24. Each towel is crafted from organic cotton and displays a chic botanical pattern on both sides. With the use of natural eco-friendly dyes, these towels are not only strong and durable but also machine washable. They can double as decorative items, as some natural fading and minor shrinkage can be expected over time. Check Amazon's prices here.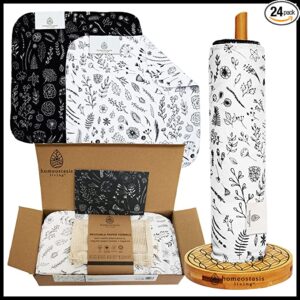 Their versatile nature allows them to be reused in various contexts, thereby reducing the need for single-use disposable paper towels and generating considerable savings. They can function in the kitchen and dining room during outdoor events and picnics. As cleaning cloths, washcloths, and even safe, chemical-free options for babies and children, their uses are limitless. They also suit offices, laundry tasks, cars, handbags, camping, and caravan trips!
Each set of Homeostasis Living's reusable paper towels includes a bonus organic cotton wash bag. Users can simply place their reusable paper towels in the wash bag, and after a gentle or normal wash, line dry them in the sun. This approach helps maintain the natural materials and colors of the towels while avoiding potential damage from dryers. After washing, they can be easily folded or rolled back onto a paper towel holder, ready for the next use. These towels can be paired with the Natural Bamboo Paper Towel Holder available separately on Homeostasis Living's Amazon store for a complete eco-friendly solution.
These reusable paper towels strongly state the brand's commitment to the environment. Not only are they eco-friendly and modern, but they are also biodegradable and come packaged in a zero-waste gift pack. The packaging comprises 100% recycled paper and is plastic-free, thus promoting a sustainable closed-loop system. The towels are available in bulk sizes of 12x and 24x packs to reduce waste.
In a further nod to their commitment to the planet, Homeostasis Living plants one tree for every product sold. And they stand by the quality of their product with a 100% money-back guarantee. Unsatisfied customers can return the product according to Amazon's return policy. Choosing Homeostasis Living Reusable Paper Towels means choosing a superior, environmentally-friendly alternative to traditional paper towels.
Shower Steamers Aromatherapy 15 Packs 
Introducing the "Shower Steamers Aromatherapy 15 Packs," featuring the heavenly scent of lavender essential oil designed to help revitalize and recalibrate for optimum well-being. Immerse in deep relaxation with this luxurious self-care product designed to dissolve away the stress and fatigue of the day. Infused with natural essential oils, these shower steamers dissolve in your shower, creating an enveloping and soothing aromatic environment.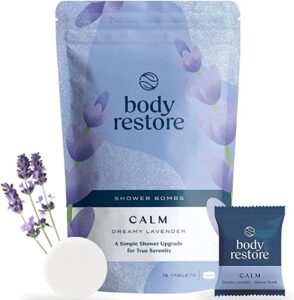 These shower steamers make for an extraordinary gift idea. Whether it's Christmas, Easter, Valentine's Day, or Mother's Day, spoil your loved ones with this unique and thoughtful gift. Perfect for teens, adults, or mothers— it's a delightful birthday present and an excellent way to show appreciation to any woman in your life.
Originally mentioned by one of the largest Tik Tok influencers, these shower steamers have gone viral. They're an exceptional gift choice for anniversaries, best friends, couples, girls, birthdays, and bridesmaids. The recognition on Tik Tok is a testament to their appeal and popularity among users.
What sets these shower steamers apart is their conscious and holistic approach. Providing a home spa experience like no other, these steamers are made with natural essential oils rather than synthetic perfume fragrances, offering an authentic and awakening experience for the senses. Choose the Shower Steamers Aromatherapy 15 Packs for a truly transformative and luxurious shower experience. Check out Amazon's prices here.
I Love The Farmyard 1000 Piece Sustainable Jigsaw Puzzle
Introducing the "I Love The Farmyard 1000 Piece Sustainable Jigsaw Puzzle" – an intricate blend of high-quality craftsmanship and engaging design. This jigsaw puzzle, when complete, measures an impressive 48x68cm, providing hours of immersive puzzle-solving enjoyment.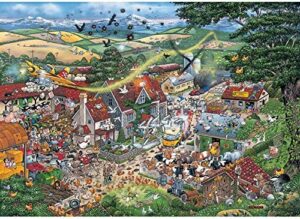 Crafted with 1000 pieces, the puzzle boasts a thickness and durability that stand testament to its high quality. Notably, it is made from 100% recycled puzzle board, ensuring that while users enjoy assembling the pieces, they are also contributing to the planet's sustainability.
The puzzle's captivating and lively farmyard design is the work of artist Mike Jupp, adding a unique charm to the overall product. His illustration brings the farmyard to life, creating an engaging and entertaining puzzle-solving experience for users of all ages.
The "I Love The Farmyard 1000 Piece Sustainable Jigsaw Puzzle" is a proud addition to the line of products by Gibsons, a company that has been successfully entertaining generations since 1919. This puzzle is not just a tribute to the company's long-standing tradition of quality and entertainment but also its commitment to sustainable practices. It's more than just a jigsaw puzzle – it's a piece of art, a tool for relaxation, and a symbol of eco-friendliness. Check Amazon's prices here.
Tertill Solar Powered Garden Weeding Robot
Presenting the "Tertill Solar Powered Garden Weeding Robot," an innovative solution to garden maintenance that effortlessly combines technology with eco-consciousness. Created by the inventor of Roomba, this garden-weeding robot requires minimal user intervention. Simply place Tertill in a garden that meets its specifications, press the button once to activate it, and again to set it on its path.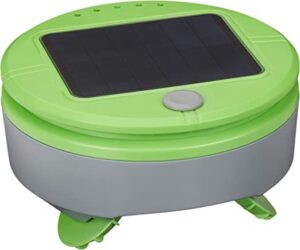 To optimize the Tertill robot's operation, ensure your garden has a 4-inch or higher border, at least a foot of space between plants or rows, a relatively flat surface with fewer than 7 degrees slope, and a relatively smooth surface. Initially, setting Tertill in a weed-free garden is recommended for the best results. Each Tertill robot can effectively maintain up to 200 square feet of garden space.
The Tertill robot uses height as its primary sensor input to distinguish between plants and weeds. It perceives any object tall enough to touch its front sensors as a plant, prompting it to steer clear. Conversely, anything short enough to pass under the robot is identified as a weed and swiftly cut down. To ensure the safety of desired seedlings that may not be tall enough to be detected, the package includes plant guards.
With the Tertill robot, garden upkeep continues uninterrupted from Spring through Fall. Thanks to its solar-powered operation, it's designed to weather outdoor conditions and stays in the garden without charging.
The "Tertill Solar Powered Garden Weeding Robot" makes a fantastic gift for busy parents, grandparents, or anyone who craves a fresh vegetable garden but lacks the time, ability, or inclination to maintain it. Let Tertill take on the weeding and enjoy a flourishing, weed-free garden without the effort! See the best price on Amazon here.
Nurture by Nature | RELAX & CALM | Spa Gift Bath Set
Introducing the "Nurture by Nature | RELAX & CALM | Spa Gift Bath Set," the ideal solution for those seeking total relaxation and tranquility. This expertly curated gift box is perfect for any woman needing rest, relaxation, and a calming experience.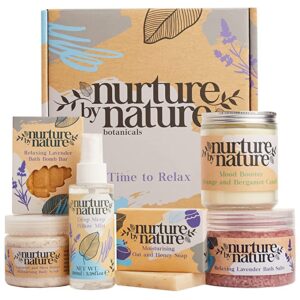 Featuring six high-quality, premium products in one luxury pamper hamper, this set offers an indulgent spa experience at home. Every product included is full-sized, ensuring this gift provides relaxation long after the first use.
The "Nurture by Nature | RELAX & CALM | Spa Gift Bath Set" utilizes luxury ingredients to provide the ultimate home spa pampering session. These products are developed with active natural ingredients and therapeutic essential oils designed to aid relaxation and create a serene ambiance, offering the best aromatherapy experience.
Committed to ethical standards, all products within the set are cruelty-free, ensuring you can relax without any guilt.
The relaxation hamper is an ideal gift for any occasion, whether it's Mother's Day, Valentine's Day, Christmas, or simply a self-care night. It's the perfect 'Just for you' or 'Thinking of you' gift for any woman in your life.
The "Nurture by Nature | RELAX & CALM | Spa Gift Bath Set" comes in luxurious packaging within a premium Nurture by Nature branded gift box. It's packed with delightful scents and a heartfelt message from our small business. With Amazon Prime, it can be delivered to your doorstep as soon as the next day. Nurturing you is in our nature, and this gift set is a testament to that commitment. Available on Amazon here.
Conclusion
In an era where our actions directly impact the health and future of our planet, every choice matters – including our choice of gifts. Eco-friendly gifts represent an opportunity for each of us to make a difference. They allow us to express our love and appreciation for our friends and family while demonstrating our commitment to environmental sustainability.
Choosing to give an eco-friendly gift is more than a simple exchange of objects – it is a statement of values and intent. It announces to the recipient and the world that you prioritize the health and longevity of our planet. It shows that you're willing to think outside the traditional consumerist box and explore alternatives that are kinder to our environment.
Moreover, by opting for eco-friendly gifts, you're playing a role in raising awareness about environmental issues and sustainable living. It's surprising how such a small gesture can spark meaningful conversations about our roles as stewards of the planet. Eco-friendly gifts are catalysts for change, inspiring others to think about their consumer habits and their impact on the world.
Yet, let's not forget the sheer joy and satisfaction of gifting something unique, thoughtful, and sustainable. There's a certain charm to gifting a bamboo toothbrush or a plantable pencil – they serve a practical purpose and stand out in a sea of conventional gifts. The delight and intrigue they spark is priceless!
Finally, there's something inherently fulfilling about giving a gift that aligns with your principles. Knowing that your gift contributes to a larger cause enhances the joy of giving. In fact, it's a gift in itself, a gift of fulfillment and peace of mind, knowing that you are part of the solution and not the problem.
So as we wrap up (preferably with recycled or reusable wrapping paper!), let's remember that eco-friendly gifts are more than just presents; they're a statement of care and respect for our planet. They say, "I care about you and the world we live in."
Eco-friendly gifts are not just a trend; they're a lifestyle, a conscious choice, and hopefully, the future of gifting. They add a whole new dimension to the act of giving, transforming it into an act of love – love for the recipient, the community, and the planet.
So, the next time you're looking for the perfect gift, why not make it eco-friendly? Remember, the best gifts are those that make the recipients happy and those that make the world happier too.
FAQs
What makes a gift eco-friendly?
An eco-friendly gift is made from recycled materials, reusable, or promotes a sustainable lifestyle. Essentially, it's a gift that considers the well-being of our planet.
Are eco-friendly gifts more expensive?
While some eco-friendly products might be pricier due to the sustainable materials and processes used, many are quite affordable. And let's face it, can you really put a price on saving our planet?
Where can I buy eco-friendly gifts?
Many online and physical stores specialize in eco-friendly products. However, always ensure to check their sustainability claims and look for transparency in their manufacturing process.
Can DIY gifts be eco-friendly?
Absolutely! DIY gifts can be very eco-friendly, especially using recycled or natural materials. Plus, the extra effort and thought that go into creating a DIY gift makes it all the more special!
Are eco-friendly gifts durable?
Yes, they are! In fact, some eco-friendly items can be more durable than traditional products due to the quality of the sustainable materials used.