Every day, tons of fabric waste find their way into landfills. But what if there was a way to transform these discarded items into something new and exciting? Welcome to the world of upcycled clothing – a revolutionary concept that's reshaping the fashion industry and the way we think about waste.
The Emergence of Upcycling
Definition and Roots of Upcycling
You might wonder, what exactly is upcycling? The term refers to the process of taking waste or unwanted items and transforming them into something of higher value. Unlike recycling, which breaks down items to their raw materials, upcycling creatively repurposes items, maintaining their original form while giving them a new lease on life. It's like the Cinderella story of the fashion industry!
Why Upcycling Matters: The Environmental Perspective
Upcycling isn't just a trendy buzzword; it's a powerful tool in the fight against environmental pollution. According to the Environmental Protection Agency, the average American discards about 70 pounds of clothing and other textiles annually. Now, imagine giving that waste a second chance at life!
The Upcycling Process
Selecting and Collecting Materials
The journey from landfill to runway begins with the collection of materials. Discarded clothing, textiles destined for the dump, or even surplus fabric from manufacturers – everything is fair game in the upcycling world.
The Art of Transformation: From Trash to Treasure
Next comes the exciting part: transformation. Here's where fashion designers and craftspeople show their skills, turning an old pair of jeans into a chic handbag, a pile of discarded T-shirts into a vibrant quilt, or a worn-out dress into a trendy top.
Industry Pioneers: Big Brands Embracing Upcycling
Upcycling isn't confined to small, indie brands. In fact, some of the biggest names in the fashion industry are embracing this eco-friendly trend of upcycled clothing, incorporating upcycled materials into their collections. Let's explore a few of these pioneering brands.
Patagonia
Patagonia, the renowned outdoor clothing company, is a trailblazer when it comes to upcycled clothing. Their "Worn Wear" initiative promotes the idea of repairing, reusing, and recycling garments. They accept used Patagonia clothing and gear, restoring them to their original glory or repurposing them into new items. The company's philosophy is built on the bedrock of sustainability – encouraging customers to buy less, buy better, and keep items for life.
Eileen Fisher
Eileen Fisher, the luxury fashion brand, has been a leader in sustainability long before it became a mainstream concern. They launched the take-back program, "Eileen Fisher Renew," to extend the life of their garments. Through this program, customers return their lightly worn Eileen Fisher clothes in exchange for a reward card. The returned items are cleaned, repaired if necessary, and resold. Unsellable items are artistically transformed into one-of-a-kind pieces under their "Resewn" line, truly embodying the spirit of upcycling.
Stella McCartney
Stella McCartney, a pioneer in sustainable luxury fashion, consistently emphasizes ethical sourcing and sustainability in her collections. She has introduced upcycled pieces in her collections, making high-fashion statements with reused and repurposed materials. The brand's commitment to sustainability extends beyond the product to every aspect of the business, from supply chain management to store design.
Levi Strauss & Co.
Levi's, the iconic denim brand, has a long-standing commitment to sustainability. They introduced "Levi's SecondHand," a buy-back program where customers can sell or trade-in pre-loved Levi's jeans and jackets. The collected items are refurbished and resold, keeping them out of landfills. Levi's is also exploring innovative technologies to recycle old jeans into new ones, promoting a circular economy in fashion.
Reformation
Reformation is a Los Angeles based brand that has made sustainability and transparency its primary selling points. They use rescued deadstock fabrics and repurposed vintage clothing in their collections. In addition to upcycling, Reformation also invests in green building infrastructure, renewable energy, and water conservation efforts to reduce its overall environmental footprint. They believe the perfect wardrobe doesn't have to come at the cost of the planet.
Impacts and Implications of Upcycled Clothing
Through the lens of sustainability, upcycling has numerous benefits. Besides reducing landfill waste, it also lowers the demand for new materials, which in turn reduces the energy and resources required to produce them. Moreover, upcycling creates unique, one-of-a-kind pieces that stand out in a crowd.
Community and Economic Impacts
Upcycling has the potential to create jobs and foster community spirit. It encourages local production and reduces reliance on mass-produced fast fashion, often manufactured under questionable labor conditions overseas.
How to Get Started with Upcycled Clothing
Want to be part of this growing movement? Here are some tips.
Buying Upcycled Clothing
Numerous online and brick-and-mortar stores sell upcycled clothing. Etsy, an online marketplace for handmade items, is a great place to start.
DIY Upcycling
Feeling crafty? Try your hand at upcycling. Start with simple projects like turning an old shirt into a tote bag or creating a patchwork quilt from worn-out clothes.
Support Brands that Upcycle
Buying from brands that prioritize upcycling is a fantastic way to support the movement. By doing so, you're voting with your wallet, promoting more sustainable practices in the fashion industry.
Our Top Picks
We've selected some top upcycled clothing that you might like.
LUZU JUNU LZJN Women's Trench Coat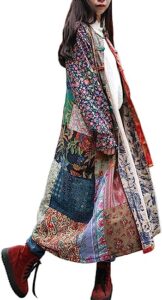 Step into the world of chic, effortless style with this beautiful linen-cotton blend trench coat. Crafted from a perfect blend of 70% cotton and 30% linen, this coat is not only a fashion statement but also a promise of comfort. The breathable fabric ensures a soft, skin-friendly feel, making this coat your go-to choice for any season.
Embracing a one-size-fits-all approach, the coat boasts a relaxed and roomy fit, with a length of 110cm/43.31″, a bust and shoulder width of 110cm/43.31″ and 40cm/15.75″ respectively. The sleeve length is a generous 67cm/26.38″, while the waist and hem measurements are 124cm/48.82″ and 148cm/58.27″ respectively, allowing for a free-flowing silhouette.
What sets the coat apart is its distinct Chinese style with traditional frog buttons. It exhibits a street fashion vibe that promises casual elegance. The patchwork design, spliced together randomly, ensures that each trench coat is as unique as the person wearing it. While the main color remains consistent, the patterns vary, making each piece a special, one-of-a-kind creation. They are even happy to send real photos of the trench coat before your purchase, as they acknowledge that the patterns may differ from the images.
Caring for this exclusive piece is a breeze. They recommend hand washing in cold water and washing separately. There's no need for bleach; instead, allow it to dry naturally for the best results.
Experience the perfect blend of style, comfort, and unique fashion with this linen-cotton blend trench coat. Add it to your wardrobe today, and step out in style tomorrow!
Levi's Women's Original Trucker Jacket

Introducing the Levi's Women's Original Trucker Jacket – a testament to timeless fashion that seamlessly marries style, comfort, and sustainability. This iconic piece, woven from a resilient blend of 97% cotton and 3% elastane, promises durability and a classic, non-stretch fit that truly stands the test of time.
Born from the looms of Levi Strauss & Co., an eminent name etched deeply into the annals of fashion history, this trucker jacket is more than just a wardrobe essential. It is an emblem of the brand's commitment to creating quality, long-lasting apparel while advocating for a more sustainable future in the fashion industry.
Levi's commitment to sustainability is deeply rooted and reflected in every garment they produce. Through initiatives like their 'Levi's SecondHand' program, they strive to breathe new life into previously loved garments, reducing environmental impact and pushing for a circular economy in the fashion industry.
This jacket, imported with precision and care, showcases a standard, true-to-size fit, ensuring it hugs your silhouette in all the right places. The button closure adds a hint of classic appeal, making this jacket an adaptable piece that complements any outfit, from a chic dress to a casual jeans-and-tee ensemble.
Ease of care comes hand-in-hand with this denim wonder. Its machine-wash-friendly nature ensures that maintaining its fresh, crisp look is as effortless as its style. With the Levi's Women's Original Trucker Jacket, you're not just wearing a jacket – you're wearing a statement of sustainable, timeless fashion.
Discover the perfect blend of iconic style, enduring comfort, and conscious clothing with the Levi's Women's Original Trucker Jacket. Invest in one today to experience a classic staple that looks forward to the future.
PEARL IZUMI Men's Quest Cycling Shorts
Introducing the all-new PEARL iZUMi cycling shorts – a brilliant combination of comfort, functionality, and environmentally friendly design. These aren't just biking shorts; they're the ultimate companion on every ride, promising unparalleled coolness, dryness, and comfort, whether tackling a long journey or a quick sprint.
Expertly designed for stellar performance, these shorts come equipped with the unique Levitate Chamois padding, offering unbeatable comfort and support. With a 9″ inseam and a silicone leg grip, these shorts are primed to maximize the rider's experience, whether they're training in the gym, journeying on the road, or navigating winding mountain trails.
PEARL iZUMi doesn't compromise on safety or technology. Their cycling shorts feature upcycled reflective elements to ensure visibility and safety during cycling adventures. Additionally, the advanced transfer fabric effectively wicks away sweat, making sure riders stay dry for longer, thus keeping their focus purely on the ride.
At the heart of PEARL iZUMi's innovation lies a commitment to sustainability. Their shorts are made of 80% recycled nylon and 20% spandex, a resilient blend that ensures stretch, comfort, and durability. Their care instructions are as straightforward as their design philosophy: they recommend using simple detergents with no additives. The guiding principle is clear – the simpler, the better.
PEARL iZUMi is synonymous with obsessive innovation. Their mission is to make every ride happier, more comfortable, drier, faster, warmer, and safer. Each product is a marked improvement from the last, not innovating for innovation's sake, but with the genuine aim of elevating the rider's experience.
Experience the fusion of innovative design, eco-conscious production, and peak performance with PEARL iZUMi's cycling shorts. The future of cycling wear is here, and it's as comfortable as it is sustainable!
Rajbhoomi Women Silk Sari Wrap Around Skirt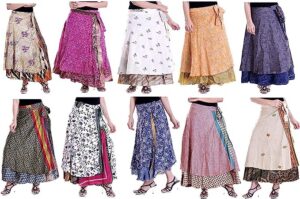 Discover a piece of fashion artistry with the Rajbhoomi Women's Silk Sari Wrap Around Skirt. Imbued with an inherent sense of elegance, this skirt showcases the transformative beauty of upcycling, presenting a unique blend of style, culture, and sustainability.
Crafted from a blend of vintage silk sarees, this wrap-around skirt speaks volumes about the brand's commitment to sustainability and conscious fashion. The silk blend promises an airy comfort, offering a touch of luxury while ensuring a soft, flowing drape that captures the essence of femininity.
Featuring an adjustable belt closure, the skirt embraces a one-size-fits-all approach, accommodating up to a maximum waist size of 50 inches. With a length of 36-38 inches, it gracefully sweeps around the wearer's figure, providing the flexibility of styling it as a saree, a maxi dress, or a unique beachwear outfit.
The intriguing part about this skirt is its individuality. Each piece, created from Indian vintage silk sarees, carries an assortment of colors and prints, ensuring every single skirt tells its own unique story. Please note that the skirt sent to customers will carry different colors and prints, making each one a bespoke creation.
The Rajbhoomi Women's Silk Sari Wrap Around Skirt isn't just a garment; it's a testament to the timeless beauty of traditional Indian attire and the modern allure of sustainable fashion. Invest in this skirt to celebrate the joy of unique style and the power of conscious consumer choices.
Conclusion
Upcycled clothing is more than a fleeting trend; it's a movement that could reshape the fashion industry and our relationship with the environment. By choosing upcycled, you're not just getting a unique piece of clothing, you're making a statement about the kind of world you want to live in.
FAQs
Is upcycled clothing the same as recycled clothing?
No, upcycling and recycling are different processes. While both aim to reduce waste, recycling involves breaking down materials to their raw form, while upcycling creatively repurposes or transforms the items without breaking them down.
How do I care for upcycled clothing?
Like any other clothing, the care for upcycled clothes depends on the material. However, it's always good to err on the side of caution – consider hand washing or using a gentle cycle and air drying.
Are there any downsides to upcycled clothing?
Some might argue that upcycled clothes can be more expensive due to the labor-intensive process and the uniqueness of each item. However, others would argue that the environmental benefits and the durability of upcycled clothing outweigh the cost.
Can I make my own upcycled clothing?
Absolutely! With some creativity and basic sewing skills, you can transform your old clothes into something new and unique.
Where can I buy upcycled clothing?
There are many places to buy upcycled clothing, from online marketplaces like Etsy to brick-and-mortar stores. Some popular brands, like Patagonia, also offer upcycled collections.